HBIGS PhD Student Speakers
- Events -


Event Schedule
Hey HBIGS!


On Sunday, May 19th, join the
crowd for an afternoon of climbing, crawling, falling, swinging, zip-lining, and humility among tree tops at the Viernheim Adventure Park. Different athletic and bravery levels are welcome. We'll meet at 13:20 at the Heidelberg Hbf and will arrive back around 19:30, with the option of completing the day at a pub.


To

register, please fill-out the attached Terms and Conditions and return to McCall@stud.uni-heidelberg.de. The
first 20
to submit the form may join for free; all others are totally welcome for €11. No-shows the day of the event will face public disgrace, so make sure your schedule fits before you claim a spot.

Please also read, print, sign and bring along the "Terms and Conditions" of the Top Ropes Course.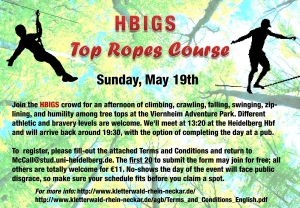 Julianne, Julian, and Patric